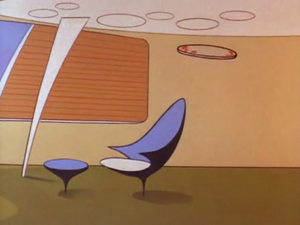 Flying Sausage Pizza is a pizza with a sausage topping that is projected from the Foodarackacycle like a boomerang.
Ingredients
History
Season one
Jane Jetson asked what the family wanted for dinner and Elroy elected to have pizza which Judy and George agreed to. Jane then selected the from a list of cards and placed it in a slot in the Foodarackacycle. It was shot out of another round the room and back on the table, but not before Elroy took a bite out of it.
Appearances
Ad blocker interference detected!
Wikia is a free-to-use site that makes money from advertising. We have a modified experience for viewers using ad blockers

Wikia is not accessible if you've made further modifications. Remove the custom ad blocker rule(s) and the page will load as expected.