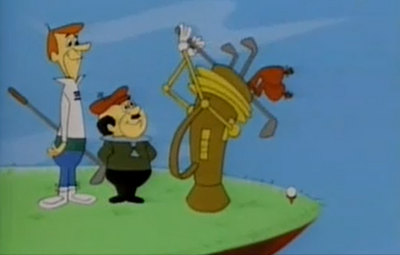 Golf is a sport that is featured in the episode "Astro's Big Moment".
At the Orbit City Golf Club the only land at the course is at the greens and the tees. The majority of the game is played by the golf bag. The player views the green through a zooming pair of googles connected to the bag; the bag recommends what iron to use; and the bag will take the shot. All the player does is click on the illuminated button on the golf bag.
Ad blocker interference detected!
Wikia is a free-to-use site that makes money from advertising. We have a modified experience for viewers using ad blockers

Wikia is not accessible if you've made further modifications. Remove the custom ad blocker rule(s) and the page will load as expected.