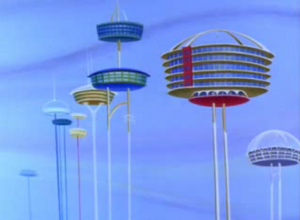 Orbit City is a city on Earth. In Orbit City all the homes and businesses are built on columns that allow buildings to be elevated into the sky. George Jetson and his family live there in Skypad Apartments.
This article is a stub. Can you help The Jetsons Wiki by explaining it?
Ad blocker interference detected!
Wikia is a free-to-use site that makes money from advertising. We have a modified experience for viewers using ad blockers

Wikia is not accessible if you've made further modifications. Remove the custom ad blocker rule(s) and the page will load as expected.