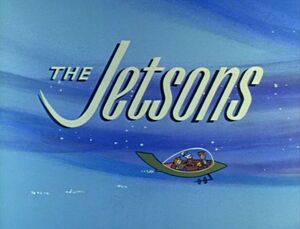 The Jetsons is an animated sitcom that was produced by Hanna-Barbera. The original incarnation of the Season 1 series with 24 episodes total aired Sunday nights in prime-time on ABC from September 23, 1962 to March 3, 1963. Then in 1985, Season 2 with 41 episodes of The Jetsons was produced, later on in 1987, Season 3 with the final 10 episodes was made. Soon afterwards three animated movies of The Jetsons was made. "The Jetsons meet the Flintstones" (1987), "Rockin' with Judy Jetson" (1988) and "Jetsons: The movie" (1990) which was the final movie.
It was Hanna-Barbera's space age counterpart to The Flintstones. Like the former show, it is a half-hour family sitcom projecting contemporary American culture and lifestyle into another time period. While The Flintstones live in a world with machines powered by birds and dinosaurs, the Jetsons live in a futuristic utopia in the year 2059 of elaborate robotic contraptions, aliens, video phones, holograms, jetpacks, hoverboards, flying cars, space travel and whimsical inventions.
This article is a stub. Can you help The Jetsons Wiki by explaining it?
Ad blocker interference detected!
Wikia is a free-to-use site that makes money from advertising. We have a modified experience for viewers using ad blockers

Wikia is not accessible if you've made further modifications. Remove the custom ad blocker rule(s) and the page will load as expected.