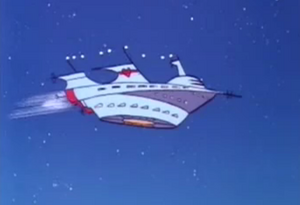 The Love Rocket is a cruise rocketship. The Jetson family takes a trip on The Love Rocket in the episode "The Vacation".
The Love Rocket is a parody of The Love Boat. The captain of the ship is not mentioned by name.
The Love Rocket does allow children, families, couples, and singles. However, they do not allow pets.
The Galaxy Guesser Game with Gus Guesser gave away a weekend cruise on The Love Rocket.
Ad blocker interference detected!
Wikia is a free-to-use site that makes money from advertising. We have a modified experience for viewers using ad blockers

Wikia is not accessible if you've made further modifications. Remove the custom ad blocker rule(s) and the page will load as expected.