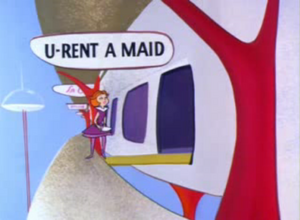 U-Rent A Maid is a store in the Shopping Center. It rents out robot maids for a day.
Employees
Robot maids
History
Season one
After her mother told her of the place, Jane Jetson went there to try one out. After turning down Agnes and Blanche Cog, she picked Rosey.
Appearances
Ad blocker interference detected!
Wikia is a free-to-use site that makes money from advertising. We have a modified experience for viewers using ad blockers

Wikia is not accessible if you've made further modifications. Remove the custom ad blocker rule(s) and the page will load as expected.