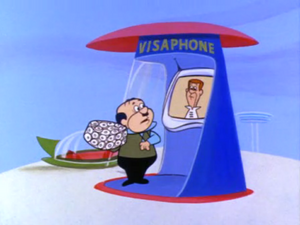 A Visaphone is a video phone booth that Mr. Spacely used to apologize to George about the pineapple cake incident and told George to bring back Rosey the robot.
Appearances
This article is a stub. Can you help The Jetsons Wiki by explaining it?
In the real world
The Video Phone was once used at the 1964 World State Fair.
Ad blocker interference detected!
Wikia is a free-to-use site that makes money from advertising. We have a modified experience for viewers using ad blockers

Wikia is not accessible if you've made further modifications. Remove the custom ad blocker rule(s) and the page will load as expected.